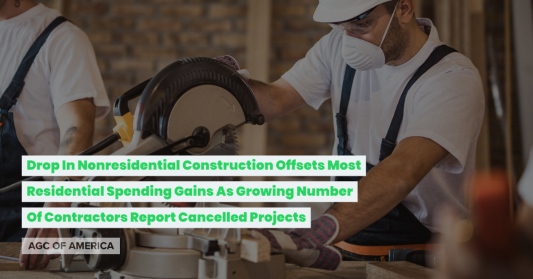 Association Officials Warn that Demand for Nonresidential Construction Will Slide Further without New Federal Relief Measures, Citing New Data Showing Most Contractors Had Projects Delayed or Cancelled
A small increase in total construction spending in September masked a widening gap between declines in most nonresidential segments and robust gains in residential construction, according to an analysis by the Associated General Contractors of America of government data released today. Association officials warned nonresidential construction is headed for an even steeper slump unless officials in Washington enact relief promptly, noting that their latest industry survey found three out of four respondents had experienced a postponed or cancelled project since the start of the pandemic.
"The September spending report shows the gulf between housing and nonresidential markets is growing steadily wider," said Ken Simonson, the association's chief economist. "In our October survey, 75 percent of respondents reported a postponed or cancelled project, up from 60 percent in August and 32 percent in June."
Construction spending in September totaled $1.41 trillion at a seasonally adjusted annual rate, an increase of 0.3 percent from the pace in August and 1.5 percent higher than in September 2019. Private and public nonresidential spending slumped by a combined 1.6 percent since August and 4.4 percent from a year earlier, while private residential spending climbed by 2.8 percent for the month and 9.9 percent year-over-year.